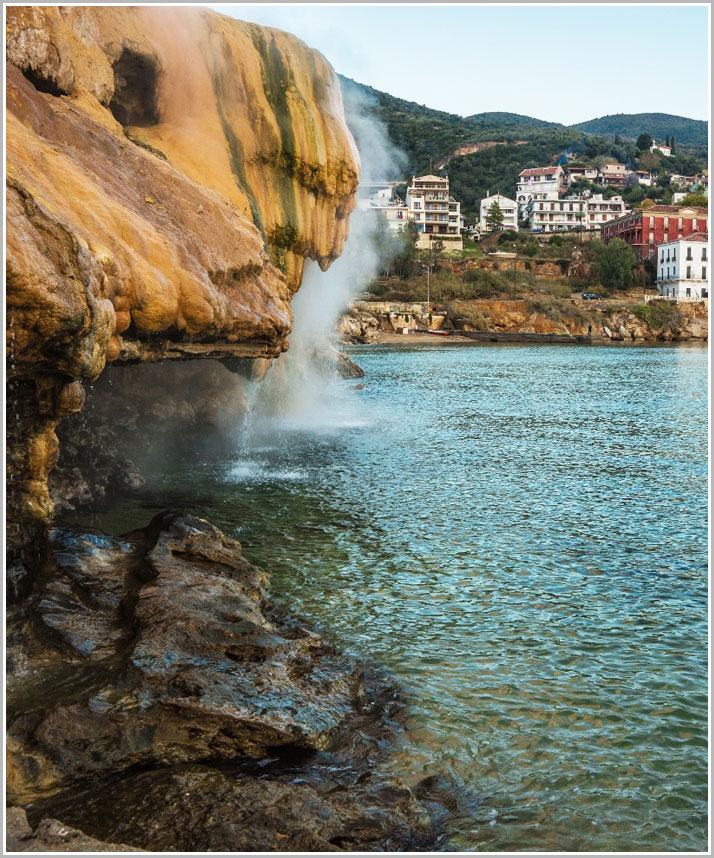 OUR AREA
Diana | Edipsos Baths Hotel - Edipsos

Edipsos and the Loutropolis of Edipsos are a very important part of North Evia. Edipsos since ancient times was known all over the world for its thermal springs and the healing water that springs from the bowels of the earth. In recent years it has developed into one of the largest tourist resorts where visitors arrive from all over Greece to enjoy the thermal baths. It can be the center for your excursions in the villages of northern Evia through the good road network. There are many possible origins for the name of Edipsos. In history we meet Edipso as Edepson or Edipson and later as Lipso.
The Northern part of Evia stands out from the other tourist areas of Greece, as it is the ideal combination of the green forested mountainous environment with the unsurpassed beauty of the coasts. Restaurants, taverns, cafes, bars, beach fish shops and ouzo offer great alternative possibilities for the vacationers of Edipsos. The night life has nothing to envy to that of big cities. Theatre, cafe-bar, live concerts, events, all contribute to increasing the quality of nightlife and entertainment in Edipsos.
To the modern Edipsos belong three settlements that make up the current city, the seaside spa town of Edipsos, the green village of Edipsos and the seaside Ag. Nikolaos with its beautiful beaches and many taverns. In the area of ​​Edipsos there are wonderful crystal clear beaches, which due to the geographical area are protected from almost all winds, and ready to offer pleasure to bathers. The hospitality of the local residents and the rich cultural events shape the image of this exceptional Loutropolis.
Many excursions can be planned starting from Edipsos. Wonderful beaches (secular or deserted), beautiful mountain forests, monasteries immersed in greenery await the visitor to offer him relaxation and rest.


Edipsos does not sell tourism to the world that floods it every summer. It embraces man and
it makes him feel sincerely within himself, the hospitality that he generously offers him.